01 Sep 2020
Top 10 Huddle Room Solutions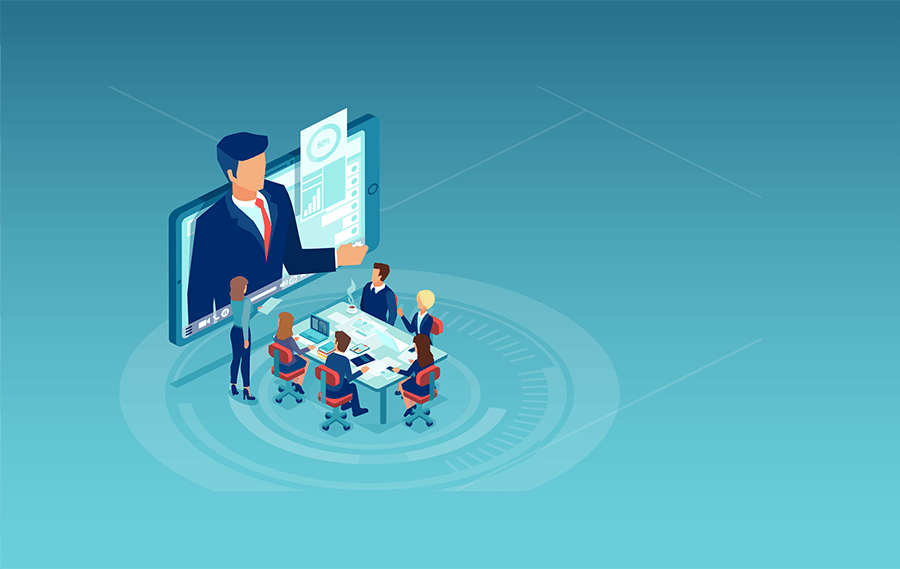 Video can also support employees in a remote workforce when context in a conversation with team members is essential. The good news for today's companies is that they no longer have to spend a fortune on large and complicated meeting rooms to access all the benefits of video conferencing.
Today's meeting room has shifted towards a smaller space. The huddle room is a small, convenient area with plug-and-play video, audio, and content sharing equipment. These rooms are excellent for impromptu meetings and quick conversations. Let's check out some of the best huddle room options on the market.
10. 8X8
8x8 is a cloud communications market leader with plenty of amazing tools to offer. In particular, 8x8 Meeting Rooms offers a convenient add-on feature for 8x8 Video Meetings. This tool makes it easy to schedule, host, and join intuitive meetings from huddle spaces.
8x8 Meeting Rooms eliminates the headaches and frustrations of setting up complex meeting spaces with an intuitive interface, smart pairing technology, and convenient devices. You can configure your meeting rooms in different ways to suit the needs of your business. There's also support for a wide selection of hardware, including tools from Logitech and Poly.
9. Kaltura Meetings
Kaltura Meetings is a software-focused solution for huddle rooms. With a single click, you can launch an instant collaboration experience anywhere. Plug in your video camera and a set of headphones, and you'll be ready for an engaging, interactive experience. Kaltura offers not just video and audio conferencing, but content sharing, digital whiteboarding, and more.
It only takes a single click to join a conference call with Kaltura, and you can invite people from outside of your office. In turn, collaborating with external team members is easy. What's more, persistent collaboration spaces mean that you can even add your own branding to a meeting space.
8. Logitech
Logitech's leading solution for huddle rooms is the MeetUp room kit. This all-in-one conferencing camera fits onto any screen or monitor, with an ultra-wide lens to capture the full room. The 4K ultra HD camera ensures an excellent picture quality, with five times zoom available. The device also comes with a full-range speaker system for audio and a beam-forming microphone array.
As the motorised pan-tilt lens on the MeetUp camera helps to maintain focus on the speaker in any room, the beam-forming microphone ensures every word is crystal clear. There's even auto-levelling technology built-in to suppress unnecessary noise and improve clarity.
7. Avaya
Avaya has stood out at the top of the communication vendors list for several years. Now, companies can turn any space into an intelligent collaboration space with Avaya huddle rooms. Huddle Room Solutions like the Avaya HC020 huddle camera or the Collaboration Unit provide instant access to an all-in-one meeting solution.
You get a video camera for conferencing, a beam-forming microphone array for better audio, and high-quality speakers all in the same environment. Plus, collaboration devices come with access to Avaya Spaces on the cloud, where teams can access convenient and affordable spaces for digital conferencing.
6. Cisco
Available to suit a range of meeting room requirements, Cisco Webex huddle spaces give you more from your meeting rooms. Cisco provides a full collaboration device portfolio for companies of every size, including hardware and software options.
Cisco huddle and meeting solutions come with an intuitive and easy-to-use backend which makes it quick and simple for teams to get started. You can scale your solution to suit your business and access advanced features like AI analytics and smart assistants. What's more, hardware like the Cisco Webex Board and Cisco Webex Mini room kit make accessing video, audio, and content sharing simple too.
5. Zoom
Zoom is one of the world's best-known video conferencing tools for a reason. The company offers quick and convenient ways for companies to collaborate with just one click. For huddle room technology, there's Zoom Rooms, convenient plug-and-play conference rooms. These solutions offer you the hardware and software you need to launch a meeting in seconds.
Zoom Rooms packages come with access to high-definition video and audio, and one-touch joining features so that you can launch conversations faster. Powerful security measures throughout keep your data safe. There's also one-click wireless sharing so that you can bring content to your business discussions too.
4. BlueJeans
Want to make any space into a huddle room? BlueJeans is the offering for you. This leader in communication and collaboration solutions offers a one-touch meeting environment that's easy to deploy. With BlueJeans Rooms, you get an environment that's simple, intuitive, and centrally managed.
BlueJeans works with Dolby to offer a world-leading meeting room experience with immersive video and audio. You can connect your Rooms software to leading technology from Poly, Cisco, and Lifesize. At the same time, BlueJeans keeps its standards open so you can configure your system to work with your existing tools.
3. RingCentral
One of the world's leaders in cloud communication, RingCentral offers something for every part of the UC portfolio. With RingCentral Rooms, you can extend the performance of your RingCentral Meetings software to access easy-to-use and affordable conferencing experiences. Better still, RingCentral Rooms eliminates complicated and stressful video conferencing configuration experiences.
With this solution, you can instantly connect and collaborate with other people around the world with one tap of your room system. What's more, RingCentral Rooms are easy to set up, with off-the-shelf equipment interoperability. You can even control your entire meeting room with just one iPad controller.
2. PGi
Offering a comprehensive solution for huddle room conferencing, GlobalMeet from PGi bundles everything you need for a great meeting into a single platform. There's HD quality video built-in, with simultaneous screen sharing for excellent content management. You can also unlock access to your meeting room software in a web browser, so there's no need to download any extra software.
Content shared during a conference stores on the cloud for later access, including any pictures that you create on the PGi digital whiteboard. The PGi team even offers international reach for your meetings, with 160 points of presence in 60 countries around the world.
1. GoToMeeting
Created by a market leader in convenient conferencing and collaboration processes, GoToRoom is a complete huddle room solution. Unlike other companies that have focused either on hardware or software, GoToMeeting has created the perfect combination of both worlds. GoToRoom with Dolby Voice is a best-in-breed hardware and software system that ensures meetings go smoothly.
Installation takes as little as 15 minutes with a simplified and turnkey solution. You also get rapid and predictable logistics information, industry-leading reliability, and more. Crystal clear video and audio matched with a powerful user interface makes every conversation more engaging. Teams can also integrate GoToRoom with their digital calendar.