16 Jun 2020
On-Demand Webinars: How AI can help contact centers resolve issues faster during crisis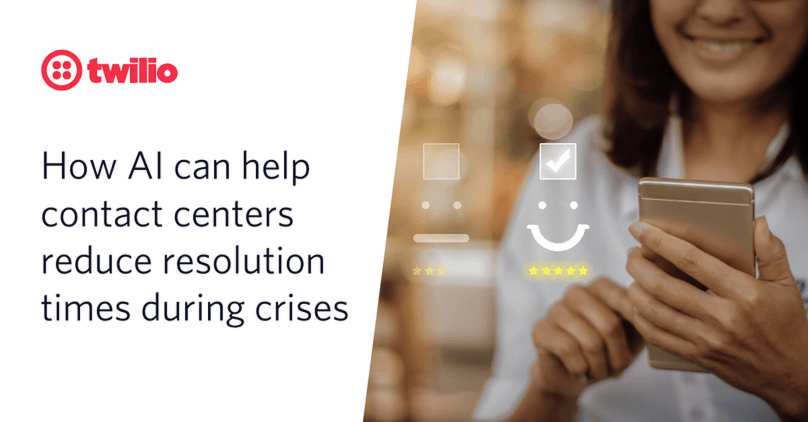 Watch this on-demand webinar all about use-cases suitable for self-service.
With the disruption caused by coronavirus comes new challenges for customer service and support. In times of crisis, it's important to stay focused on best practices and reinforce the capabilities of your contact center—not necessarily rip-and-replace them. In addition to being prepared with business continuity plans and the right infrastructure, businesses can ensure their contact center agents are able to manage increased call volumes by leveraging artificial intelligence (AI) to help scale support.
Traditionally, customer satisfaction (CSAT) has been regarded as the ultimate measure of customer loyalty. However, according to recent Gartner research, a more telling indicator of customer loyalty, especially amidst the stresses and sense of urgency surrounding COVID-19 and other times of crisis, is customer effort: the ease of customer interaction and resolution during a request. In fact, customer effort is 40 percent more accurate at predicting customer loyalty than customer satisfaction. A brand's customer effort score (SEC) is determined by customers answering just one question, Did the company make it easy for you to handle your issue? Gartner also found that 96 percent of customers with a high-effort interaction become more disloyal, compared to just 9 percent who have a low-effort experience.
The cost of customer loyalty
Leading brands have a customer engagement strategy to foster loyalty with a focus on a self-service strategy that prioritizes faster resolution. As a lower-effort interaction than live channels, self-service is also the biggest opportunity for brands to reduce costs. Low-effort experiences have been found to reduce costs by decreasing up to 40 percent of repeat calls, 50 percent of escalations and 54 percent of channel switching. In comparison to live channels, such as phone, live chat, and email, which cost brands an average of $8.01 per contact, self-service channels cost about $0.10 per contact. Overall, a low-effort interaction costs 37 percent less than a high-effort interaction.
Low-effort service doesn't only reduce costs; it also boosts sales: Ninety-four percent of customers with low-effort interactions intend to repurchase compared with 4 percent of those experiencing high-effort. Today, 70 percent of customers are using self-service channels during their resolution journey, but just 9 percent are resolved start-to-finish without switching to a live agent—resulting in a high-effort interaction. Gartner has identified that the design of a low-effort, faster resolution process has three critical functions:
Focusing on customer outcomes;
Managing customers' perception of the outcome;
Staying ahead of foreseeable issues.
Intelligent self-service
Using intelligent automation and machine learning, leading companies deliver personalized, omnichannel, low-effort self-service for faster issue resolution. In fact, after implementing a virtual customer assistant (VCA), organizations report a reduction of up to 70 percent in call, chat and/or email inquiries, and 33 percent savings per voice engagement. In practice, AI supports three capabilities of a low-effort resolution process:
Guiding customers to the right service channel
For customer inquiries made through a call, an interactive voice response (IVR) system equipped with AI can recognize a customer's intent, to provide answers, understanding requests that aren't a part of a predetermined menu of options. IVR with AI can also intelligently route calls to reduce handling time or give callers the option of receiving either a callback, switch to chat, or SMS message from the next available agent, rather than wait in a queue. Similarly, AI-based chatbots, which have natural language understanding (NLU) capabilities, can complete more complex tasks to reduce escalation to a live agent. Today, companies have a number of platforms to choose from to provide the APIs, infrastructure, and tools needed to build intelligent bots. These platforms are commonly referred to as conversational AI platforms, and let you focus on building a bot experience that works for your users without worrying about the underlying capabilities or infrastructure.
On-demand webinar: Build a Modern IVR with Conversational AI
Reducing uncertainty in the resolution process
Customers abandon self-service when they lose confidence in their ability to resolve an issue without the help of another person. More specifically, Gartner's research found that the top three factors impacting customers' confidence in self-service are:
-Clarity: how easy it is to understand or act on given information;
-Confirmation: assurance that indicates resolution, and;
-Credibility; the utility or relevance of information.
Voice assistants, built on AI, use automatic speech recognition (ASR) and NLU to accurately respond to customers with relevant answers. Unlike chatbots, conversational AI uses advanced algorithms to train itself from data inputs and subsequently improves at predicting questions. Conversational AI can complete tasks, including paying a bill, completing orders, and providing instructions to customers without channel switching. The adoption of voice assistants is set to triple over the next few years with 8 billion digital voice assistants in use by 2023, up from the 2.5 billion at the end of 2018.

On-demand webinar: Keeping it Human: Bots, AI, and CX
Leveraging proactive alerts and notifications
People expect businesses to interact with them on their terms — at any time, and on any channel — whether it's SMS, voice, social, or email. However, engaging across every channel all the time for every individual doesn't work either. Seven in ten customers have penalized a business for using the wrong frequency and channel. Research has shown there are best practices for engaging with customers based on the content and urgency of a message. It's critical to honor a person's preferences for when and how they wish to receive alerts, notifications, and messages.

Get the eGuide: Blueprint for Mobile Notifications

The value of faster resolution times has a heightened effect during challenging times of uncertainty and disruption, for businesses and customers alike. When the contact center is a powerful tool for providing ease, comfort, and assurance to customers it can promote enduring customer goodwill.
Want to learn more about leveraging AI in the contact center? Watch this webinar, Creating self-service experiences during COVID-19 with IVRs and Chatbots