26 Jun 2020
Customer experience happens in the contact center. Is yours set up for success?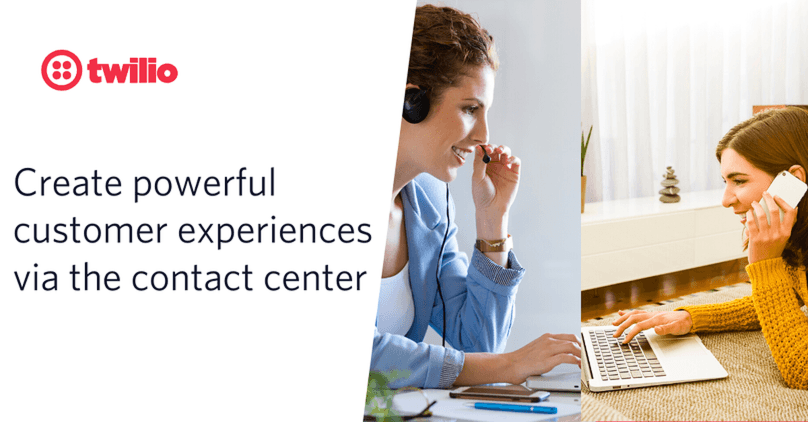 Customer loyalty hinges on the customer experience, and because of that, the contact center—where the customer experience is shaped—is now the proving ground for brand differentiation.
From account authentication to delivery notification; from customer service experiences to product and experience reviews, the contact center is the hub of trusted communications that engages customers throughout the customer lifecycle.
A younger workforce, process automation, and customer expectations are fundamentally shaping the future of enterprise contact centers. The next generation of contact center employees expect easy access to a 360º customer view. Chatbots and machine learning are allowing for 24/7 service that simultaneously frees up more time for agents. And customer expectations demand maximum flexibility to communicate with brands on the channel of their choice.
To suit every customer, your contact center needs to provide self-service and the option for a direct line of communication to live agents across SMS, email, OOT, and IVR. The fact is, omnichannel customer experience––that seamlessly connects contextual information from one channel to another––requires a cloud computing foundation to be successful. Consider that 94 percent of customers will buy again when they have a simple, easy support experience.

Not all contact centers are the same
Legacy contact centers, or on-premise systems, force a tradeoff between customizability and ease of deployment.
In contrast, cloud-based contact center software offers quick deployment, but limited customizability. Contact center as a service (CCaaS) is a form of software as a service (SaaS) that is specific to the contact center. These are typically out-of-the-box offerings that provide cloud-based contact centers.
These packaged products offer speedy deployment, but with limited customizability and scale. They aren't designed for iteration when customer or business needs change. More recently, the communication platform as a service (CPaaS), is gaining momentum because companies want to fully own the development and deployment of their systems enhancements and not be beholden to another vendor's roadmap. In fact, enterprise spend on CPaaS is projected to increase from $2 billion (in 2017) to $10.9 billion by 2022, according to IDC.
What is CPaaS, exactly?
CPaaS leverages cloud technology, allowing companies to develop and embed custom communication features without being required to purchase purpose-built applications. To integrate communications capabilities into business applications, businesses can use cloud-based APIs from CPaaS vendors, rather than build their own communications infrastructure from scratch. The technology provides businesses with a complete development framework that integrates real-time communication (RTC) features into their existing communication stack. You can use APIs to augment, fully replace, or provide connectivity for your cloud contact center.
Here are three ways CPaaS provides more value to a cloud contact center:
Faster deployment
CPaaS typically includes software tools, sample codes, pre-built applications, and standards-based APIs. Many CPaaS vendors also offer product support and documentation to help businesses throughout the development process. Plus, deployment can happen in as little as 2-4 months. In contrast to cloud contact centers, CPaaS does not require developers or consultants with a hard-to-find-skillset. Companies have been using APIs from CPaaS providers to build their own contact center capabilities for the past 10 years.

Lower fixed costs
CCaaS solutions, like most any SaaS product, are subscription-based. Unused licenses mean wasted money. With CPaaS, there are "pay-as-you-grow" plans, which help you to manage your expenses through predictable monthly payments or simply based on usage. Some CPaaS companies even offer to roll-over unused credit from one pay period to the next. CPaaS also offers the added cost-savings of build-your-own, instead of hiring professional services to develop and code capabilities.
Scalable and flexible
By 2022, 72 percent of customer interactions will involve an emerging technology, such as machine-learning applications, chatbots, or mobile messaging. With CPaaS, adding these capabilities can happen simply by swapping out a few lines of code. How? Because CPaaS relies on APIs as communication building blocks it offers the greatest amount of inherent flexibility to adapt as business needs and customers' preferences change. APIs can be configured to allow customers and contact center agents to connect, collaborate, and complete tasks on whichever channel is preferred.
Becoming a contact center of the future
This year, 30 percent of enterprises will embed communications using APIs and modules from CPaaS vendors –– up from less than 5 percent in 2017. But before you join the communications revolution, be sure that you're already familiar with the key considerations for supporting a cloud-based contact center.
Still unsure about exploring a CPaaS for your contact center? Ask yourself:
How difficult is it to customize my contact center?
Modern contact centers should be straightforward, flexible, and so customizable that even your non-developers can easily adapt to meet both standard and edge case communication flows. Think about what role each layer of the stack plays in the communication process. Each component should give you the ability to use analytics to track, test, and tailor your contact center for maximum performance — just as you optimize a web page or mobile app.

How quickly can I add new channels to my contact center?
Being omnichannel is not just a nice-to-have, it's a business imperative. To succeed, you have to be more like your customers, who are chatting, texting, messaging on WhatsApp and Facebook, and connecting on social media. Customers want to seamlessly move between channels — such as switching from a live webchat to a voice call — without your agent needing to ask the customer questions that they've already answered.

How easily can your contact center integrate with other systems?
The keystone of any effective contact center is a single and holistic view of every customer. And to get that view, your contact center must function flawlessly with your customer relationship management (CRM) and other workforce optimization (WFO) solutions, including report and analytics, and dashboards.
Want to learn more about how you can transform your contact center with a CPaaS solution? Watch our webinar, The Future of the Enterprise Contact Center.